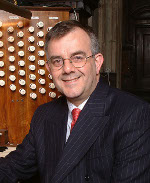 Malcolm Archer is Director of Chapel Music at Winchester College, where he trains and conducts the Quiristers and Chapel Choir and teaches organ in the College. He has enjoyed a distinguished career in cathedral music, which has taken him to posts at Norwich, Bristol, Wells Cathedrals and then Director of Music at St. Paul's Cathedral in London. During his time there he directed the choir for several State services, including the Tsunami Memorial Service, the London Bombings Service and the 80th Birthday Service for HM The Queen, for which he was invited by Buckingham Palace to compose a special anthem, performed live on BBC1. His many broadcasts and recordings from Wells and St. Paul's have received critical acclaim, and his CD of Christmas music from St. Paul's was voted Editor's number one choice in The Daily Telegraph.
Malcolm is much in demand as a choir trainer and choral and orchestral conductor, and he has directed concerts, workshops and courses in various parts of the globe, as well as working with several leading orchestras. He is also the Musical Director of the Jean Langlais Festival in France. As an organ recitalist he has played in nine European countries, the USA and Canada, and his CDs include repertoire as diverse as J.S. Bach and Olivier Messiaen, as well as his own music.
As a composer, Malcolm receives regular commissions from both sides of the Atlantic, and he has many published works. Recently he has composed works for the Southern Cathedrals Festival, St. Paul's Cathedral, the Festival of the Sons of the Clergy and an anthem for the enthronement service of the Bishop of Winchester. He has also jointly edited two books for Oxford University Press: Advent for Choirs and Epiphany to All Saints for Choirs.
He has been an adjudicator for the BBC Radio 2 Young Chorister of the year competition, and for four years was a judge for the BBC Songs of Praise School Choirs competition, including chairing the judging panel for two of those competitions. He is also a frequent contributor to that programme as both interviewee and musical arranger. He has recently been a judge for the British Composer Awards.
Malcolm has served as council member of the Royal College of Organists, and he is a member of the council of the Guild of Church Musicians, from whom he was recently awarded the Fellowship for his services to church music over many years. In 2009, he was awarded the FRSCM (Fellow of the Royal School of Church Music) for his work in three cathedrals, and as a composer of church music.